I came across this article by Salim Virani which describes some of the transgressions that Facebook makes. This goes well with Richard Stallman's Reasons not to be used by Facebook.
It is more convincing, however, to read the list, prepared by Facebook itself, of a subset of the data that it collects (and saves permanently). Every search, every message, every defriending, every poke. They let you download and view a subset of this subset. For me, this download comes to around 80MB (of which around 31MB is 'private' messages).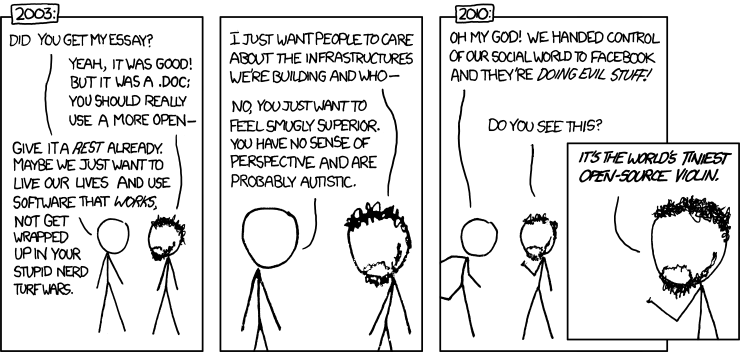 A few months ago, Facebook disabled Messages on its mobile website in an attempt to get people to download the Messenger app. I refuse to do that, and because of that, I now mostly use SMS messages and emails to contact most of my friends or contacts. (There is a workaround by using the 'basic mobile' website, which offers limited (but sufficient) functionality.) Completely leaving Facebook has proved difficult because (a) there isn't an adequate substitute for group chat, and (b) there are some people for whom I have no other means of contacting. When we meet new people, we no longer share contact details such as our email (or physical) addresses or phone numbers: The default is to add newly-met people on Facebook and to conduct all communication there (and asking for other contact details is seen, ironically, as too personal).
A first step towards society moving away from Facebook should be that we start sharing our contact details properly, as we used to. Mine are available on the home page of this website, and I invite you to tell me yours as well.
Addenda
For group chat, WhatsApp and Skype are problematic for the same reasons. Regretfully, IRC and XMPP are not so widely used, even though they have good merits as open and decentralised protocols. Part of the reason is that Windows and OS X do not ship with an IRC client.
This is not primarily about privacy or security. Like any other form of communication, emails, SMS messages and IRC may be intercepted. The advantage of these systems is that they are decentralised, in the sense that your communications are not controlled by a single company. You can switch between email and mobile providers quite easily.

Unfortunately, many people's personal emails are from Google Mail or Yahoo! Mail, which means their email address–that is, part of their identity–is tied to Google or Yahoo!.
Although WhatsApp and Skype promise end-to-end encryption, they are closed-source, centralised systems and you have no guarantee of it.
Encrypting emails is relatively straightforward using tools such as Enigmail.

While they are useful as soapboxes, Facebook, Twitter, Reddit and such are vulnerable to censorship (as discussed in Virani's post) and therefore should not be exclusively relied upon.

An article such as this one (written to, stored on and displayed from my personal website) is at the mercy of only my ISP (currently the SRCF at the University of Cambridge), which would have no motive in taking down this website, and even then I could switch to a different ISP. (Unless, for example, my ISP receives a court order for a takedown, for example if I write hate speech.)

On either privacy or censorship, there is little that you can do against a sufficiently determined eavesdropper or adversary. Courts can order takedowns and intelligence services and police have the technical capability to tap lines and crack passwords. Whether they should use these privileges is a subject for policymakers, but there is no reason to give Facebook these privileges as well.